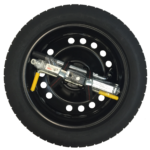 The Road Hero spare wheel kit gives you all you need to change a wheel at the road-side. It's small size – just 4×15/18" (depending on your vehicle) – means that very little storage space is taken up in your boot.
This wheel comes with a tyre, lifting jack and wheel brace so everything is ready in case of an emergency. It is important to keep a spare wheel with you, especially when driving on some of the poorly maintained roads in the UK. Knowing that you can replace a damaged wheel helps you prepare for the worst possible circumstances.
When a tyre malfunctions (bursts or gets a puncture) or a wheel sustains damage or breakage, the space saver spare wheel offers peace of mind. Spare wheels are available in alloy and steel wheel types for most vehicle makes and models so we are sure to have what you need here at Tyre Save.
We have been in this industry for more than 20 years and our dedicated team of wheel experts is always on hand to offer advice to our broad customer base. Fast delivery means that your spare wheel will be with you as soon as possible and for an extra cost you can choose Saturday delivery.
Spare wheel and tyre specialists
We specialise in supplying high quality alloy wheels, tyres and accessories for modern cars, classic cars, specialist cars, vans, motorhomes, commercial vehicles, 4×4's, race cars and many other vehicles. The products and services provided by our team of friendly professionals are unparalleled. Wheels are delivered to customers in most countries around the world and we are based in Deeside, UK.
Buying your spare wheel online is simple as payment is processed by Paypal (you are welcome to pay by debit card, credit card or over the phone if you prefer). For assistance with your purchase, please get in touch with our team and we will be happy to help.