Classic Minilite Alloys made in the UK
MINILITE Alloy Wheels are made to fit Classic Cars, Race Cars, Rally cars & other non-standard fitments:
examples – Austin Healey 3000, BMC Mini, BMW 2002, Caterham, Daihatsu Hi-Jet, Fiat 126, Fiat Panda, Fiat 500, Ford Cortina, Ford Escort Mk1&2, Jaguar E-type, Morris Minor, Marina, MG Midget, MGA, MGB, MG RV8, Opel Manta, Sunbeam Tiger, Rapier, Alpine, Hillman Imp, Rover P6, Triumph Dolomite, Spitfire, Herald, Triumph TR3, TR4, TR5, TR6, TR7, TR8, GT6, 2000, Stag, Reliant Scimitar, Westfield, Ginetta, Volvo Amazon, etc.

If you want 5 wheels add 25% | If you want 6 wheels add 50% | If you want less than 4 wheels please ask.
All prices include centre caps & badges. Nuts or Bolts extra.
Minilite wheels are made from LM9 alloy and heat treated for strength.
All Minilite wheels are fitted with steel inserts to the bolt holes.
* NEW !! 16″ Minilite wheels ** Ideal for Classic Porsche and American Muscle Cars
---
Minilite wheels in popular sizes, fitments & standard silver colour are normally available off the shelf for next day delivery.
Other wheels or non-standard colours are usually in stock as "blanks":  they need to be drilled and painted – delivery time usually 7 to 21 days.
Optional extras below (set of 4)
Rear and Front faces of 13″ Peg Drive Alloys for Lotus Elan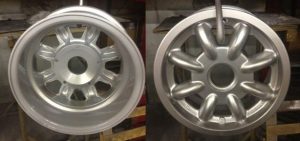 Minilite wheels can be made to Group 4 Rally specification
(See photos below)
Minilite Alloy Wheels and tyres for Austin Healey Sprite
Minilite Alloy Wheels and tyres for Austin Healey 3000
Minilite Alloy Wheels and tyres for classic Mini
Minilite Alloy Wheels and tyres for BMW 2002
Minilite Alloy Wheels and tyres for Caterham
Minilite Alloy Wheels and tyres for Daihatsu Hi-Jet
Minilite Alloy Wheels and tyres for Fiat 126
Minilite Alloy Wheels and tyres for Fiat 500
Minilite Alloy Wheels and tyres for Ford Escort
Minilite Alloy Wheels and tyres for Ford Cortina (& Lotus)
Minilite Alloy Wheels and tyres for Ginetta
Minilite Alloy Wheels and tyres for Hillman Imp
Minilite Alloy Wheels and tyres for Jaguar E-type
Minilite Alloy Wheels and tyres for Lotus Elan
Minilite Alloy Wheels and tyres for Lotus Europa
Minilite Alloy Wheels and tyres for Morris Minor
Minilite Alloy Wheels and tyres for Morris Marina
Minilite Alloy Wheels and tyres for MG Midget
Minilite Alloy Wheels and tyres for MGA & MGB
Minilite Alloy Wheels and tyres for MG RV8
Minilite Alloy Wheels and tyres for Opel Manta
Minilite Alloy Wheels and tyres for Reliant Scimitar
Minilite Alloy Wheels and tyres for Rover P5 & P6
Minilite Alloy Wheels and tyres for Sunbeam Tiger
Minilite Alloy Wheels and tyres for Sunbeam Alpine
Minilite Alloy Wheels and tyres for Sunbeam Rapier
Minilite Alloy Wheels and tyres for Triumph Dolomite
Minilite Alloy Wheels and tyres for Triumph Spitfire
Minilite Alloy Wheels and tyres for Triumph GT6
Minilite Alloy Wheels and tyres for Triumph Herald
Minilite Alloy Wheels and tyres for Triumph Vitesse
Minilite Alloy Wheels and tyres for Triumph Stag
Minilite Alloy Wheels and tyres for Triumph 2000
Minilite Alloy Wheels and tyres for Triumph TR2, TR3, TR4, TR5, TR6, TR7, TR8
Minilite Alloy Wheels and tyres for Westfield
Minilite Alloy Wheels and tyres for Volvo Amazon
Minilite Alloy Wheels and tyres for Volvo P1800