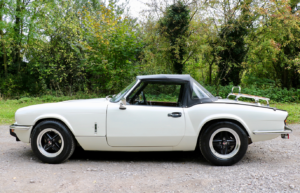 Tyre Save has been selling specialist car alloy wheels and tyres in Deeside for over 25 years. Customers come to us from all over the world because we guarantee great prices on all leading brands including Wolfrace, Minilite, Revolution, Team Dynamics that fit practically every type of vehicle, whether it be a modern or classic car, a van or a motorhome.
To order a set new of alloys for your classic or specialist car, simply fill in an enquiry form and let us know your details and preferences. We can then confirm suitability, prices and delivery before shipping your purchase. There are special offers available on alloy wheel and tyre packages that help save you money whilst still getting the alloys of your dreams. We supply and fit new and part-worn tyres for local customers and new tyres can be fitted to wheels for UK orders.
We stock many specialist car alloys that can be shipped next day to customers in Deeside
Classic cars, race cars, rally cars and non-standard fitments require an expert eye when it comes to buying new wheels or tyres online and with our team of specialists, you are sure to get the right item. Choose from a range of additional services such as nuts or bolts, special colours and hub spinners to finish off your vehicle. Classic cars we have experience with include Austin Healey Sprite, Caterham, Ford Escort Mk1, Sunbeam Tiger, Triumph Dolomite, Reliant Scimitar, Volvo Amazon and VW Beetle.
We offer customers a vast array of high quality alloys which have been heat treated to strengthen them and increase their durability; this will save you both time and money! The most popular sizes, fitments and standard colours are available off the shelf for next day delivery while others need to be painted and drilled – please note, this can take 7-21 days.
Call Tyre Save Deeside on 01244 813030 for more information about specialist car alloy wheels!