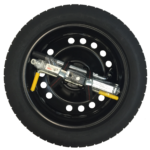 Tyresave is providing quality space saver spare wheels in and around Liverpool and Chester for an unmatched price. We have been an established business since 1988, delivering alloy wheels and tyres to customers all over the world. The Road Hero space saver spare wheel is cheap, reliable and is the perfect temporary fix if you have any problems with a wheel or tyre.
Over the years, we have gained a highly positive reputation for the products and services we have provided. The selection of products that we can supply includes spare wheels and alloy wheels for both modern and classic cars as well as vans and motorhomes.
Why purchase your space saver spare wheels in Liverpool from us?
Here at Tyresave we have been one of the leading providers of alloy wheels and tyres for many years. The Road Hero Spare Wheel that we have in stock is small and compact; the size of the spare wheel is small enough to fit comfortably inside of your vehicle's boot. Every spare wheel purchase comes with a lifting jack and wheel brace, making this the perfect solution if you have any tyre malfunctions.
Fill in our advanced search bar with your vehicle's details and it will show you the spare wheel that fits your specific make and model; please note, the price on our website is for 1 wheel. Customers in Liverpool will also benefit from our free UK delivery and if you would like any assistance in finding a Road Hero spare wheel for your vehicle, then speak with one of our specialists.
Purchase your spare wheel in Liverpool today
Either order your space saver spare wheel online or get in touch with one of our experts for assistance. Our team is more than happy to provide you with more information about the Road Hero wheel so either call us on 01244 813030 or fill in our contact form.