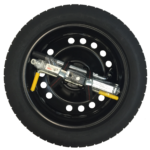 Tyresave is a leading provider of space saver spare wheels in Chester and the surrounding areas. We have been an established business for more than 28 years, providing hundreds of wheels to customers located all over the world. Our Road Hero spare wheel kit is very small, cost-effective and high quality. It's extremely easy to fit and comes with its own fitting kit that consists of a lifting jack and wheel brace.
Why choose us to purchase your space saver spare wheel from in Chester
Ordering your space saver spare wheel with us will ensure you are given a high-quality product as we only provide the leading brands and, with our advanced search bar, you can find the correct space saver spare wheel for your specific vehicle. Please note that the price on our website is for 1 wheel which is very light and small enough to fit neatly into your vehicle's boot.
Having a space saver spare wheel in your car will save you a lot of stress. If you have a tyre malfunction, such as a burst or a puncture, the space saver wheel will provide you with a temporary fix until you replace your broken tyre or wheel. Tyresave is well known for providing high quality alloy wheels, tyres and accessories for both modern and classic cars. If you would like help in finding the correct space saver wheel for your vehicle, then speak with one of our specialists – we are more than happy to help.
Order your space saver spare wheel in Chester
To purchase your space saver spare wheel in Chester today, you can either buy the wheel online or get in touch with one of our experts by calling us on 01244 813030. For more information, simply fill in our contact form and we'll get back to you as soon as possible.