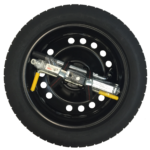 Let Tyre Save help you find the right space saver spare wheel for your vehicle in Wrexham. We are wheel and tyre experts with a wealth of experience, providing high standards of service. Our spare wheels are sent out to customers via fast, secure UK delivery from our base near Wrexham. For over 25 years we have been selling wheels, tyres and now we are offering space saving spare wheels that fit most vehicle manufacturers and models. Fewer cars come with a full size spare now than ever before, which can come as a shock to some when they find themselves in need of roadside assistance following a puncture. If you have noticed your vehicle is missing a spare wheel and want a lightweight, compact solution then the Road Hero kit is the right choice for you.
The best compact, space saving spare wheel for motorists in Wrexham
The actual size of the wheel will depend on the specific car you drive, however along with the accessories it comes with, it will easily fit into the boot where it can be stored until it is needed. The kit is complete with the spare wheel and tyre (this is already fitted), lifting jack and wheel brace, all of which only takes up approximately 4×18″ of boot space. Road Hero makes changing a wheel on the road-side quick and easy as it is equipped with everything you need. To find the space saver spare wheel that will perfectly fit your vehicle, simply select the make and model from the drop-down menu then pick the size you need. With a Road Hero spare wheel you know that you're ready should one of your tyres suddenly break, burst or get a puncture.
Speak to a space saver spare wheel expert about getting Road Hero for your vehicle in Wrexham – 01244 813030