Classic style since 1969
4-SPOKE
Fully painted white
(centre caps extra cost +£25)
Size
PCD
Offset
Range
mm
Backspace
mm
Approx.
Weight
kgs
Price set 4
(rally use)
7×13″
4 hole
3¾" > 4½"
00 > +20
100 > 120
6.0/5.8
£490
7×13″
4×108
(Gp4 Escort)
00
100
6.0
£480
8×13″
4 hole
3¾" > 4½"
-06 > +20
108 > 134
6.3/6.1
£520
8×13″
4×108
(Gp4 fit.)
00
112
6.2
£520
9×13″
4 hole
3¾" > 4½"
-12 > +13
114 > 139
6.4/6.6
£550
5-SPOKE
Fully painted white
(centre caps extra cost +£25)
Size
PCD
Offset
Range
mm
Backspace
mm
Approx.
Weight
kgs
Price set 4
(rally use)
6×15″
4 or 5 hole
3¾" > 120mm
02 > +22
89 > 109
8.4/7.8
£590
6×15″
4×108
(Gp4 Escort)
15
102
8
£610
7×15″
4 or 5 hole
3¾" > 120mm
00 > +25
100 > 125
8.6/8.0
£610
7×15″
4×108
(Gp4 Escort)
00
100
8.6
£610
8×15″
4 or 5 hole
3¾" > 120mm
-06 > +20
106 > 132
9.4/8.5
£640
8×15″
4×108
(Gp4 Escort)
00
112
9.2
£640
9×15″
4 or 5 hole
3¾" > 120mm
-12 > +15
113 > 140
9.9/9.3
£700
9×15″
4×108
(Gp4 Escort)
-12
113
9.9
£700
SPLINE CENTRE ALLOY

for MG, Triumph, Sunbeam, Lotus & Austin Healey
Size
Approx. Weight (kgs)
Price set of 4
5×13″
42mm spline
8kgs
£680

to fit MG, Triumph, Sunbeam & Austin Healey

5½x14″
42mm  spline
9kgs
£760

to fit MG, Triumph, Sunbeam & Austin Healey

5½x15″
42mm  spline
10kgs
£820
RFX Rally Wheel
Fully Painted White
Size
PCD
Offset
Range
mm
Backspace
mm
Approx.
Weight
kgs
Price set 4
(rally use)

5½x13″
4×100
(Micra)
35
118
6.1
£520
5½x14″
4 hole
3¾ > 4½
10 > 49
90 > 129
6.5/7.1
£540
5½x14″
4×100
(Corsa)
49
129
6.5
£540
5½x14″
4×108
(Peugeot)
15
95
7.1
£540
6×14″
4 hole
3¾ > 4½
10 > 46
96 > 132
6.7/7.3
£560
6×14″
4×100
(Corsa)
46
132
6.7
£560
6×14″
4×108
(Peugeot)
15
132
7.3
£560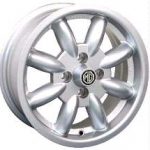 Classic 8-SPOKE Rally
Full Silver finish
Size
PCD
Offset
Range
mm
Backspace
mm
Approx.
Weight
kgs
Price set 4
(road use)
6×13″
4×108
(Gp4 Escort)
+16
105
5.6
£480
7×13″
4×108
00
101
6.7
£500
7×13″
4×108
(Gp4 Escort)
00
101
6.9
£500
8×13″
4×108
-06
107
7.4
£520
8×13″
4×108
(Gp4 Escort)
-12
101
7.6
£520
9×13″
4×108
(Gp4 Escort)
-12
114
8.1
£580
9×13″
4×108
(Gp4 Escort)
-24
102
8.3
£580
| | |
| --- | --- |
|   | |
PRICES
Prices on this page are for set of 4 wheels delivered in the UK (please ask for export prices), including a set of new standard nuts or bolts. (Some specialist fixings such as sleeve nuts will be extra cost).
If you want less than 4 wheels please ask.
VEHICLE FITMENTS
The wheels shown are available in a variety of fitments to suit different vehicles – 4 or 5 hole stud patterns and different offsets.See my help page for technical details of PCD and offsets. Note that with NEGATIVE offsets the mounting hub of the wheel protrudes towards the back rim, with POSITIVE offsets the mounting hub is towards the outer face (as most modern cars)WHEN ORDERING please specify PCD, offset, centre bore, nut/bolt type and whether the wheel is required for Road or Race or Rally use.
---
Revolution Alloy Wheels and tyres for Austin Healey Sprite
Revolution Alloy Wheels and tyres for Austin Healey 3000
Revolution Alloy Wheels and tyres for classic Mini
Revolution Alloy Wheels and tyres for BMW 2002
Revolution Alloy Wheels and tyres for Caterham
Revolution Alloy Wheels and tyres for Daihatsu Hi-Jet
Revolution Alloy Wheels and tyres for Fiat 126
Revolution Alloy Wheels and tyres for Fiat 500
Revolution Alloy Wheels and tyres for Ford Escort
Revolution Alloy Wheels and tyres for Ford Cortina (& Lotus)
Revolution Alloy Wheels and tyres for Ginetta
Revolution Alloy Wheels and tyres for Hillman Imp
Revolution Alloy Wheels and tyres for Jaguar E-type
Revolution Alloy Wheels and tyres for Morris Minor
Revolution Alloy Wheels and tyres for Morris Marina
Revolution Alloy Wheels and tyres for MG Midget
Revolution Alloy Wheels and tyres for MGA & MGB
Revolution Alloy Wheels and tyres for MG RV8
Revolution Alloy Wheels and tyres for Opel Manta
Revolution Alloy Wheels and tyres for Reliant Scimitar
Revolution Alloy Wheels and tyres for Rover P5 & P6
Revolution Alloy Wheels and tyres for Sunbeam Tiger
Revolution Alloy Wheels and tyres for Sunbeam Alpine
Revolution Alloy Wheels and tyres for Sunbeam Rapier
Revolution Alloy Wheels and tyres for Triumph Dolomite
Revolution Alloy Wheels and tyres for Triumph Spitfire
Revolution Alloy Wheels and tyres for Triumph GT6
Revolution Alloy Wheels and tyres for Triumph Herald
Revolution Alloy Wheels and tyres for Triumph Vitesse
Revolution Alloy Wheels and tyres for Triumph Stag
Revolution Alloy Wheels and tyres for Triumph 2000
Revolution Alloy Wheels and tyres for Triumph TR2, TR3, TR4, TR5, TR6, TR7, TR8
Revolution Alloy Wheels and tyres for Westfield
Revolution Alloy Wheels and tyres for Volvo Amazon
Revolution Alloy Wheels and tyres for Volvo P1800