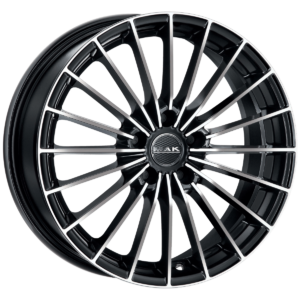 Tyresave is providing customers in North Wales with the opportunity to purchase their desired alloy wheels at a competitive price. We have more than 30 years of experience in supplying various products such as alloy wheels, tyres and nuts and bolts.
Purchasing your alloy wheels from us provides many benefits, we offer next day delivery and free mainland UK delivery (not including highlands and islands). All prices shown on our website are for sets of 4, if you require more or less please get in contact with one of our specialists and we'll provide you with a quote.
The leading provider of alloy wheels in North Wales
Our selection of alloy wheels is second to none, we can provide alloy wheels for all vehicles, whether it's a classic car, Ferrari or Vauxhall we'll be able to help. Here at Tyresave we have a huge range of different brands, styles and colours for you to choose from. Browse through our wheels today, you can either purchase your wheels over the phone or online.
Looking to find a set of alloy wheels that fit your vehicle? Fill in our advanced vehicle search bar and it will show you every wheel that is available for your vehicle. Whatever budget you may have, we'll be able to satisfy your needs. We can also supply you with new or part worn tyres which have been tested and guaranteed. If you are a customer from the UK you can opt to have a set of new tyres fitted onto your alloy wheels.
Have your new alloy wheels delivered to North Wales today!
Get in touch with our team today to find out which alloy wheels we currently have for your vehicle. Either call us on 01244 813030 or fill in our contact form, we'll get back to you in no time.