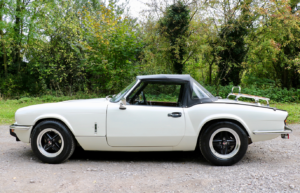 Here at Tyresave, we pride ourselves on being the best suppliers of quality alloy wheels in and around Liverpool. Based locally in Deeside, our garage is fully equipped to fit, refurbish and repair alloy wheels. We have a wide range of quality and reasonably priced wheels for all types of cars, vans, motorhomes and classic cars.
Our portfolio of wheels covers high range designer wheels, sporty wheels and budget wheels, spanning many different designs, styles, finishes, colours and sizes. If you're nearby, come pay us a visit for some friendly advice and guidance on what wheels are right for your vehicle. Our friendly staff based in Liverpool are here to give a helping hand.
The leading provider of alloy wheels in Liverpool
If you are based in or near Liverpool, come buy your wheels at our garage or order online from us for a swift and efficient delivery. We've been operating since 1988 and over the past 30 years we've learnt exactly what customers want and need. Our friendly and efficient customer service ensures that our customers get the best deal for the right wheels. We don't just serve locally though, we can also send wheels around the world. Whether you're somewhere in the UK, or as far as Australia or America, we can post you alloys to you.
If you do decide to buy from us, you can expect a smooth transaction and great customer care after your purchase. Our wheels are top of the line and if you have any burning questions, we're on the phones and at our garage by Liverpool to answer them for you.
Purchase your alloy wheels today
Order your alloy wheels today online or by calling one of our team members, we are more than happy to provide you with more information about our stock. Call us on 01244 813030 or fill in our contact form, we will reply as soon as possible.